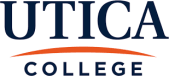 Lee más en la página web de la universidad
Utica College, fundado en 1946, es una institución privada integral ubicada en el norte del estado de Nueva York aproximadamente a 90 millas al oeste de Albany y 50 millas al este de Syracuse, y actualmente matricula a más de 5,000 estudiantes en 38 pregrado, 31 menores, 21 programas de postgrado y una serie de programas preprofesionales y especiales.
El Colegio ofrece certificados en línea acreditados regionalmente , licenciaturas, maestrías y doctorados en salud, ciberseguridad, delitos financieros, enfermería, terapia física, negocios, justicia penal y ciencia de datos. Todos los cursos son impartidos por profesores acreditados y altamente experimentados con logros significativos y continuos en sus respectivos campos.
Utica College está acreditado regionalmente por Middle States Association of Colleges and Schools.

Programas en línea disponibles

Programas de finalización de licenciatura
Licenciatura en Ciberseguridad con especializaciones en Cyber ​​Operations, Cybercrime
BS en Fraude
Licenciatura en Enfermería (RN a BSN)
Licenciatura en Justicia Penal con especializaciones en Políticas Públicas

Maestrías
MBA con especializaciones en Finanzas / Contabilidad, Gestión de Atención Médica, Ciberseguridad, Política Cibernética, Seguros y Gestión de Riesgos, Emprendimiento, Análisis de Datos, junto con una opción de Administración General.
MBA en Delitos Económicos y Gestión del Fraude
MPS en Cyber ​​Policy
Maestría en Ciberseguridad con especializaciones en informática forense, operaciones cibernéticas, delitos electrónicos, ciberinteligencia y análisis de malware
MS en Data Science con especializaciones en Business Analytics, Cybersecurity, Financial Crime, Social Science Analytics, y una opción general
MS en Crimen Financiero
MHA en la administración de atención médica

Programas de doctorado
Doctor de Transición de Terapia Física (tDPT)

Certificados de pregrado
Certificado de Investigador de Crímenes Financieros
Certificado de Tecnologías de Ciberseguridad
Certificado de ciberdelito e investigación de fraude
Certificado de Defensa de la Red Cibernética
Lugares
Utica
Address
1600 Burrstone Road
13502-4892
Utica
,
Nueva York
,
Estados Unidos de América